We have some product updates in March.
2 have just gone live and the third will be appearing shortly:
Anonymising cvs for review - live now
Hiring manager video introduction tool - live now
arriving in 2 weeks: Distribution of your jobs to Talent.com and Linkedin
Points 1 and 2 will be available for everyone to try until the end of April and will then be only available to premium+ customers.
---
Anonymising cvs for review
Increasingly users are wanting to anonymise applications when they are reviewed by hiring managers. As inclusivity and diversity move up the agenda of importance we need to give you the tools to ensure you are doing everything you can to meet those objectives and one of those is the ability to send a cv/resume for review by the hiring manager anonymising it so the reviewer can assess them only on the details shown and not be influenced by the candidate's name.
To use our anonymising tool you must shortlist cvs/resumes for review from the list of applicants to a job. So if you wanted to shortlist to a reviewer a cv/resume like this:

Simply tick the candidate from the list of applicants to the job and click on the send for review button: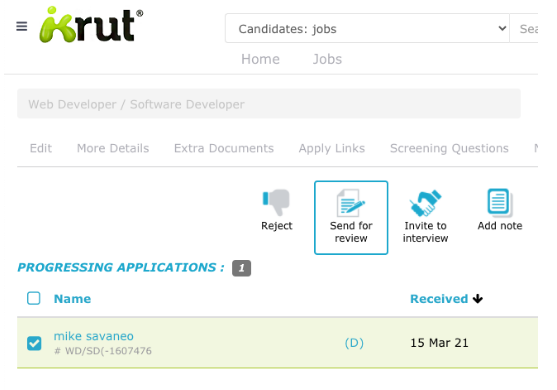 After selecting who you want to shortlist it to, you arrive at this screen. Make sure you tick this option: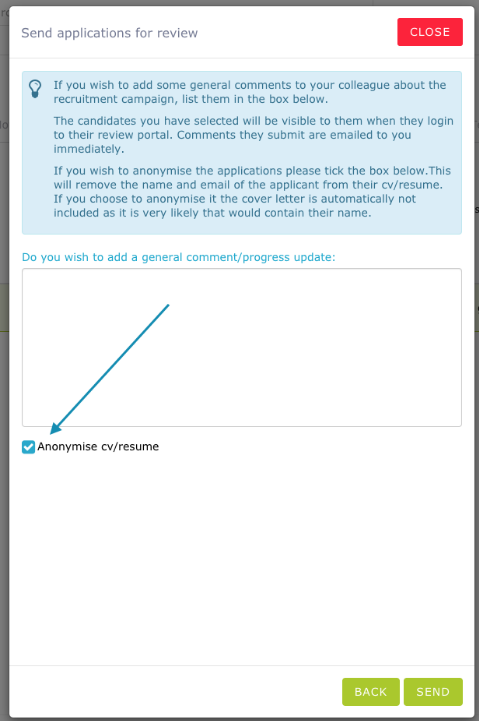 You don't have to do anything other than tick the anonymise option - iKrut does the conversion for you. Whoever you have asked to review the candidate will then receive an email prompting them to login to their reviewer portal.
This is what they see: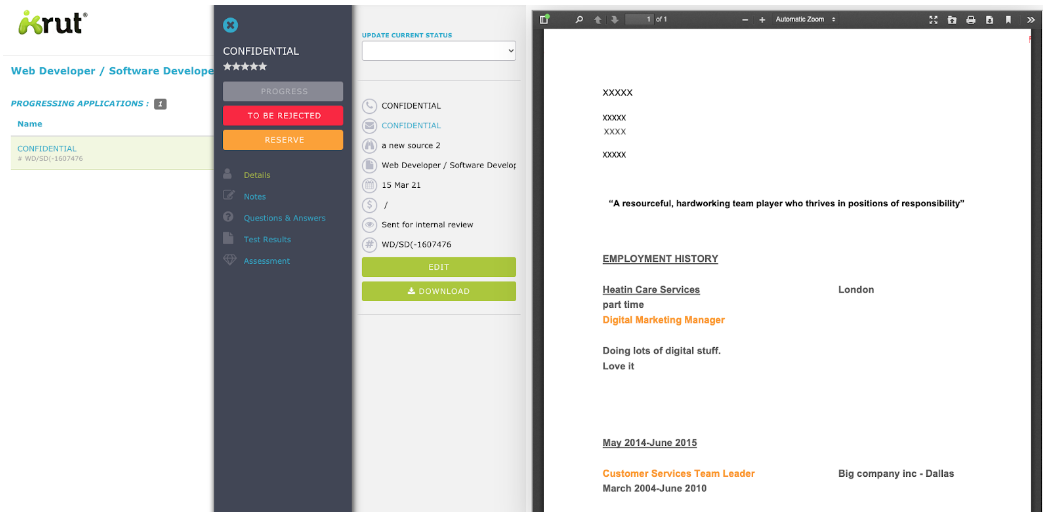 The reviewer's version will automatically put xxxxx over the candidate's name, contact number, email and linkedin profile.
If you want to check what they will see, you can take a look at the anonymised version for any candidate via this new link on their file: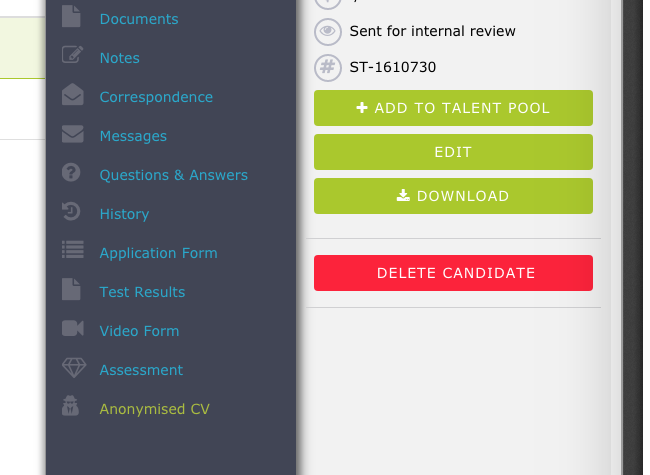 Releasing the original cv/resume (with name etc) to a reviewer:
If the reviewer adds a comment into the notes section confirming they'd like to progress the candidate, you (the recruiter) have the ability to release the decrypted cv/resume at any time i.e. let the reviewer know the name of the candidate. To decrypt the candidate's details is very easy. On your applications to the job page, you will see a new option here:

This will show you all the people you have sent the candidate's details to for review and whether they can see the original version or not.
If there is a tick in this column, they have been sent the redacted version to review so if you wish to release the original version to the reviewer (obviously you would if the hiring manager wishes to interview them), just remove the tick:

If you do this, the reviewer will immediately be able to see the original (unredacted) version:

If you send an applicant for review to 2 different people you have the ability to release the original version for 1 of them and keep the encrypted version for the other.
Please note: any cover letter the candidate may have written will not be shown to a reviewer if you are using the anonymising tool. Once the candidate's profile is decrypted, then they will be able to see the cover letter.
Limitations:
Unfortunately we can't guarantee 100% accuracy in being able to anonymise a candidate's profile for 2 reasons:
Names don't match
Graphics based cv/resume
If they register in iKrut with 1 name, but refer to themselves on their cv/resume by a different name, iKrut cannot identify what their actual name is and thus will not be able to apply the xxxxx redaction tool. Thankfully this doesn't happen very often and we estimate this will only be an issue for 1 - 2% of applications. Please note this is only the first version of our anonymising tool and we will continue to adjust the algorithm that powers it to try to ensure that this slippage is continually improved.
A more likely scenario is the user adding their name or other details as part of an image on their cv/resume. This is the case quite often with designers or those with a more creative bent. Unfortunately there is nothing we can do in this instance. If their name is created as an image or as part of an image, the system cannot 'read' it and redact it.
So for non creative roles the % accuracy of the anonymising tool should be very good. It will be less effective if the role is targeted at creatives.
---
2. Video introduction - hiring managers
In an increasingly video / image driven world we are finding that candidates respond better to job descriptions with video in, particularly if they can see and hear people they are likely to be working with, so we have built a tool that allows you to embed a video from whoever you want (the logical person would be the hiring manager but it doesn't have to be) directly onto the job. The idea is that they give a brief (up to 2 mins) introduction on the company and the role listing all the positive features they can think of.
It doesn't have to be the hiring manager - if you think someone in the team is likely to come across particularly well or your potential new hire is going to be working very closely with this person, you can ask absolutely anyone to provide the introduction.
No need to store the video on Youtube or Vimeo.
No need to manually put a link/embed code onto the job description.
iKrut does this all for you.
Here's how you do it:
Go to the new video tab on the job and click on the request option: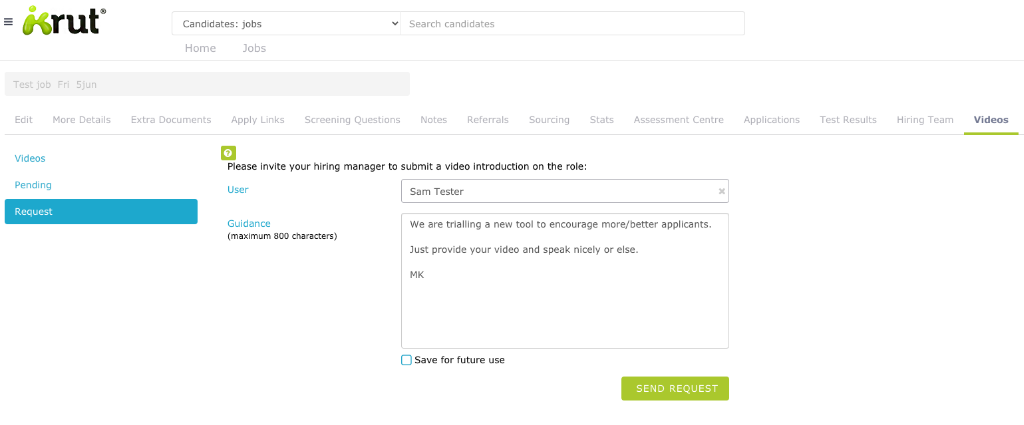 Select the user you want to supply a video. Just type their name into the user box. If they are not in the system yet, go to the user admin section and add them in. We recommend you add them as a reviewer marked like this: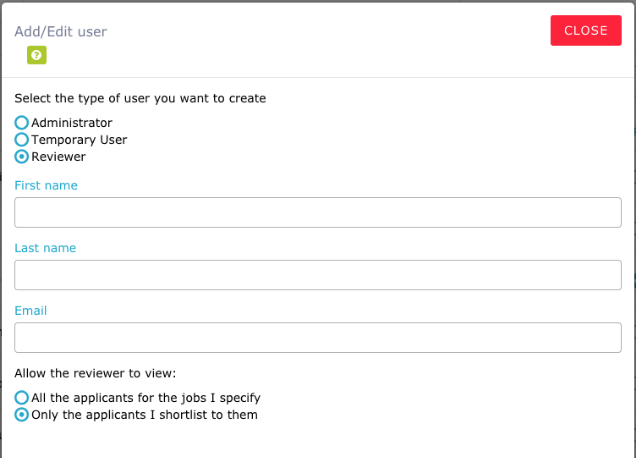 Type a quick message - we recommend you try to explain here what you want from them and then press send.
There is nothing else you need to do.
The person will receive your email, will click through to a page like this: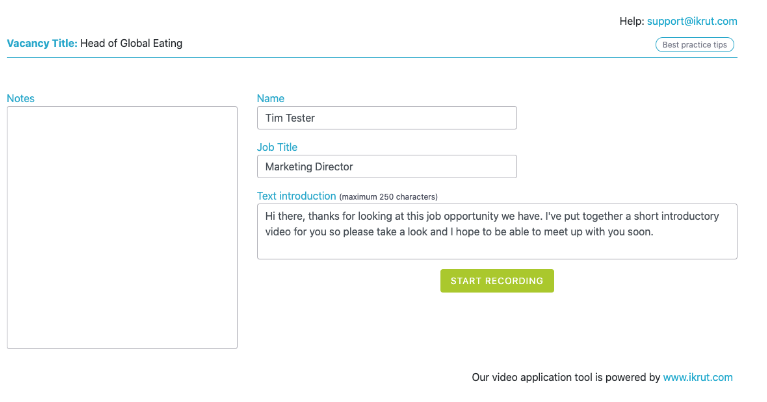 They then record a video along with a brief, written introduction ready for your approval. You are notified by email when they have completed the video, so you just login, review it and approve it via this active/inactive slider:

Once you have activated the video it is then included on your job. Obviously you don't have to if you don't want to, but if you combine it with a fully branded job template, you get a fantastic looking, content rich job advert:
I'm sure you'd agree this shouts 'innovative employer' a lot more than just a load of text.
You are free to invite other people to submit a video and rotate the videos as often as you wish. To select a different video just click on it to highlight it: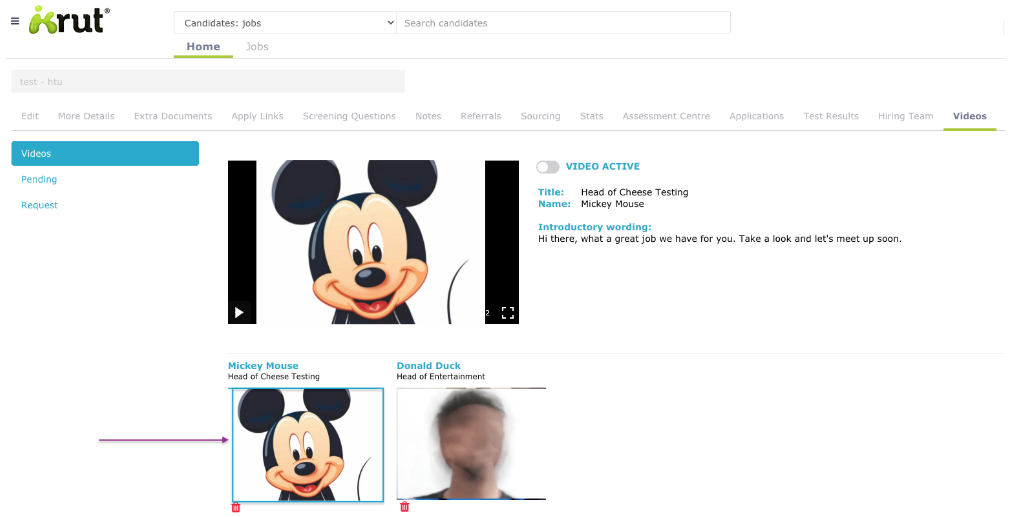 As soon as you click on it, it will replace whatever video is in the frame above and then activate the slider to make it live on the job: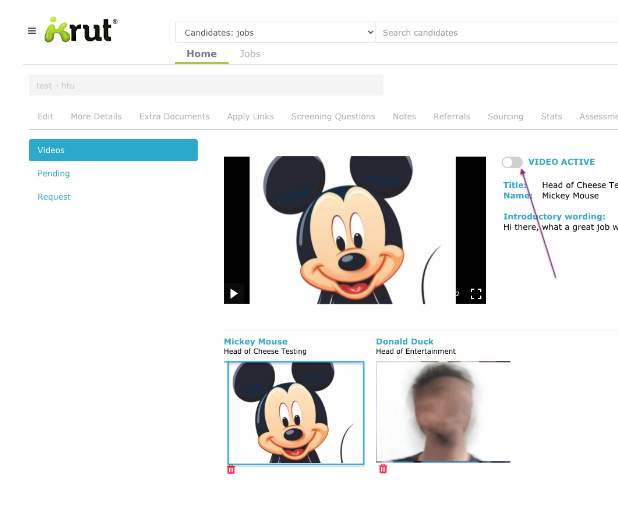 If you do not wish to show any of the videos, simply deactivate the slider to remove the video.
Coming shortly:
We will be releasing an integration with Talent.com and Linkedin in early April.
Jobs distributed to Linkedin and Talent.com will be available to all premium and premium+ customers as soon as we put it live. There are no additional fees you would have to pay with either job site. It is a free listing, provided you have at least a premium subscription with iKrut.
Just click publish on the pop up that appears when you create a job: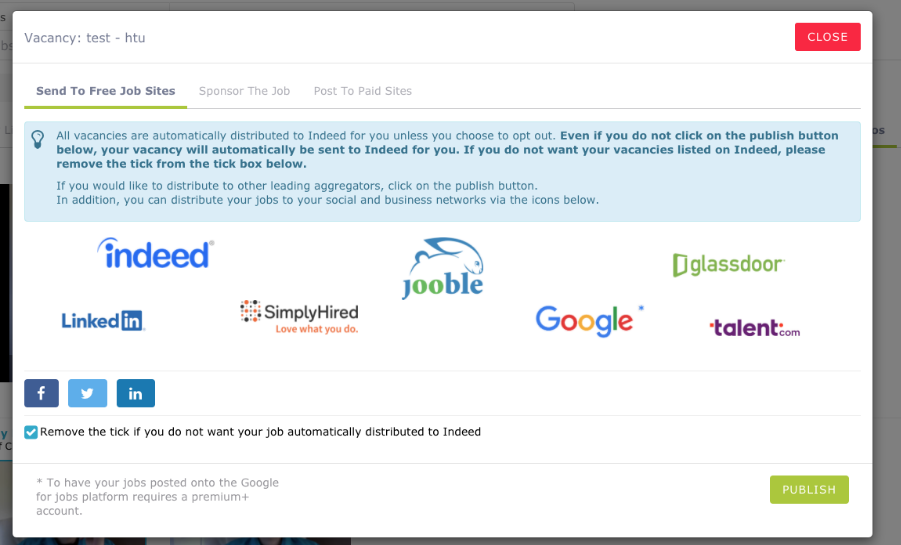 and the job will be sent out to all the boards including the new additions of Talent.com and Linkedin with applicants channeled back to the job on your iKrut careers site.
It's a good idea to make your job look really amazing with a branded job template (careers site section - jobs+ tab) combined with a video introduction…..see above.
---
Looking for an ATS - iKrut can help. Go to www.ikrut.com, sign up and start using it free of charge.